Trinity Guardrails & Related Lawsuits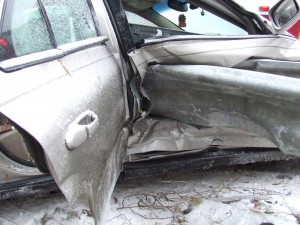 The ET-Plus guardrail system manufactured by Dallas-based Trinity Industries is at the center of nearly 15 lawsuits, possibly more, alleging the system malfunctioned and caused severe injuries and deaths in auto crashes nationwide. In 2005, Trinity made critical design changes to its ET-Plus guardrail system without notifying federal and state safety regulators as required by law.
The part of the guardrail at issue is the rectangular piece at the "head" of the guardrail, called an end terminal.Trinity secretly reduced the dimensions of a metal part called a "feeder chute" that helps the end terminal cushion the impact from a crash so the guardrail bends away from the colliding vehicle. As a result, the guardrail tends to malfunction and jam upon impact, causing it to slice into vehicles like a deadly spear. Ironically, Trinity stood to make a profit of only $2 per end terminal or $50,000 per year from this design change.
Motorists who have been seriously injured, or worse, in auto crashes involving the ET-Plus guardrail system may have cause to take legal action.
States Banning Further Use of Trinity Guardrails
In a recent federal whistleblower lawsuit brought against Trinity Industries, a Texas federal jury ruled the guardrail manufacturer defrauded the federal government out of $175 million by failing to report design changes made to the system nearly a decade ago. During the trial, Trinity's president admitted the company omitted the design changes from crash test reports submitted to the FHWA and failed to notify states about the changes. Trinity even told one state the new design was "identical" to the originally approved version of the end terminal.
The verdict, which was handed down in October 2014, prompted several states to act. At least one state (Virginia) has begun removing such installations from its roadways.  To date, over 30 states have removed the ET-Plus from their Qualified Products Lists and banned further installation of the system until new testing is completed. These states include:
Arizona




Colorado




Connecticut




Delaware




Florida




Georgia




Hawaii




Idaho




Kansas




Kentucky




Louisiana

Massachusetts




Michigan




Minnesota




Mississippi




Missouri




Montana




Nebraska




Nevada




New Hampshire




New Mexico




New Jersey

New York




North Dakota




Ohio




Oklahoma




Oregon




Texas




Utah




Vermont




Virginia




Washington




Wisconsin
Recent Study Confirms Dangers of Controversial Guardrail
A recent study conducted by the University of Alabama-Birmingham concluded that the redesigned version of the ET-Plus guardrail system places motorists at a higher risk of serious injury or fatality than its previous version. The study examined eight years of data for injury and death crashes in Ohio and Missouri involving five different guardrail end terminal designs. The study found that the ET-Plus design was 3.95 times more likely to produce a fatality than its predecessor, the ET-2000 design. In addition, the ET-Plus guardrail was 1.45 times more likely to produce a severe injury. The study was funded by The Safety Institute and the Missouri Highways and Transportation Commission.
Final Report: "Relative Comparison of NCHRP 350 Accepted Guardrail Terminals" Released
AIEG's Role
Additional lawsuits are expected to be filed as more and more accidents are linked to the defective Trinity guardrails. This litigation has many technical and procedural complexities, which make it critical to establish an information sharing network among our members, many of whom are currently litigating these cases. AIEG is committed to helping its members stay informed and up-to-date on the Trinity guardrail issue.