Takata Exploding Airbag Recall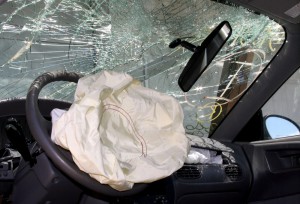 The Takata airbag recall is quickly growing to potentially become the largest automotive recall in history.  Airbags manufactured by Takata Corporation can contain a defect whereby the inflators can explode upon deployment, sending metal shrapnel into the face and body of the vehicle's occupant(s), causing eye injuries, puncture wounds and death.  NHTSA and Takata speculate that heat and/or humidity may play a part in causing the inflators to explode, making vehicles in warmer states more susceptible.
The recalls to date include ten auto manufacturers and 7.8 million vehicles.  Reporting and recalls related to this defect were first initiated by Honda in 2004 and, since that time, six voluntary recalls have taken place, each one expanding the number of models affected.  Manufacturers' knowledge of this defect dates back to 2000. Slow reaction time by NHTSA, Honda, Toyota and the other auto manufacturers that have received complaints of this defect have led to four confirmed deaths and 139 reported injuries.  Many of these vehicles are still on the road today, which means accidents and injuries or deaths will continue to happen.
Takata Homepage – The Center for Auto Safety
AIEG's Role
This quickly expanding airbag recall is particularly dangerous because of the large number of vehicles still in operation today.  Consumers are being urged to take immediate action.  However, replacement parts are not always readily available.  Discovery has been limited to date, but new cases being actively pursued by AIEG members will help to uncover the facts about this continuing safety hazard to the consuming public.
Additionally, AIEG members have been involved as Counsel on most claims filed to date.  AIEG is at the forefront of this issue, having created a specialized litigation sub-group of members with these cases.  This subgroup holds teleconferences and webinars as needed to discuss new developments.  AIEG is collecting pleadings, written discovery, motions, briefs, depositions and shareable manufacturer's documents that will help its members handle these cases against  auto suppliers and manufacturers.
Potentially Affected Models
Takata Recall Chart – Clarence Ditlow
BMW: 627,615
2000 – 2005 3 Series Sedan
2000 – 2006 3 Series Coupe
2000 – 2005 3 Series Sports Wagon
2000 – 2006 3 Series Convertible
2001 – 2006 M3 Coupe
2001 – 2006 M3 Convertible
2002-2005 325i/325xi/330i/330xi Sedan
2002-2005 325xi/325i Sports Wagon
2002-2006 330Ci/325Ci/M3 Convertible
2002-2006 325i/330i/M3 Coupe
2002-2003 M5/540i/525i/530i Sedan
2002-2003 540i/525i Sports Wagon
2003-2004 X5 3.0i/4.4i Sports Activity Vehicle
Chrysler: 371,309
2003 – 2008 Dodge Ram 1500
2003, 2005 – 2009 Dodge Ram 2500
2003, 2006 – 2008 Dodge Ram 3500
2006 – 2009 Dodge Ram 3500
2007-2009 Dodge Ram 3500 Cab Chassis
2006 – 2008 Dodge Ram 4500
2008 – Dodge Ram 5500
2008 – 2010 Dodge Ram 45000/5500 Cab Chassis
2004 – 2008 Dodge Durango
2005 – 2011 Dodge Dakota
2005 – 2010 Dodge Charger/Magnum
2005 – 2010 Chrysler 300/300C/SRT8
2007 – 2008 Chrysler Aspen
2008-2009 Sterling 4500/5500 Cab Chassis
Ford: 58,669
2004 – 2006 – Ranger
2005 – 2006 GT
2005 – 2014 Mustang
General Motors: undetermined
2003 – 2007 Pontiac Vibe
2005 – Saab 9-2X
Chevrolet:
2007 – 2008 Silverado 2500 HD
2007 – 2008 Silverado 3500 HD
2007 – 2008 GMC Sierra 2500 HD
2007 – 2008 GMC Sierra 3500 HD

Honda: 5,051,364
2001 – 2007 Honda Accord
2001 – 2002 Honda Accord
2001 – 2005 Honda Civic
2002 – 2006 Honda CR-V
2003 – 2011 Honda Element
2002 – 2004 Honda Odyssey
2003 – 2007 Honda Pilot
2006 – Honda Ridgeline
2003 – 2006 Acura MDX
2002 – 2003 Acura TL/CL
2005 – Acura RL
Mazda: 64,872
2003 – 2007 Mazda6
2006 – 2007 MazdaSpeed6
2004 – 2008 Mazda RX-8
2004 – 2005 MPV
2004 – B-Series Truck
Mitsubishi: 11,985
2004 – 2005 Lancer
2006 – 2007 Raider
Nissan: 694,626
2001 – 2003 Nissan Maxima
2001 – 2004 Nissan Pathfinder
2002 – 2004 Nissan Sentra
2001 – 2004 Infiniti I30/I35
2002 – 2003 Infiniti QX4
2003 – 2005 Infiniti FX35/FX45
Subaru: 17,516
2003 – 2005 Baja
2003 – 2005 Legacy
2003 – 2005 Outback
2004 – 2005 Impreza
Toyota: 877,000
2002 – 2005 Lexus SC
2002 – 2007 Toyota Corolla
2003 – 2007 Toyota Corolla Matrix
2002 – 2005 Toyota Sequoia
2003 – 2005 Toyota Tundra